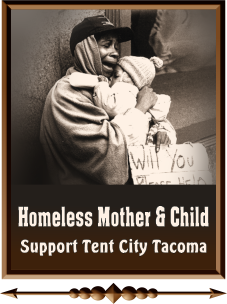 Currently, Tent City Tacoma (TCT) does not exist. The organizing group of TCT has not met since February of 2016. Though the project is inactive, it had an effect on the City of Tacoma's discussion of homelessness.
Activists in Occupy Tacoma started the TCT organizing group in June of 2013. This group ceased meeting about 3 years later in February of 2016 owing to irreconcilable differences and burnout among the organizers.
Perhaps the TCT will start up again. TCT represented a dream that continues to this day. TCT efforts sparked conversations among City officials, in the press, and community groups.
This site contains a wealth of material about TCT and homelessness in Tacoma. It is a valuable resource for those interested in addressing this vexing problem. In the future, there will be new articles and postings about homelessness. If you are interested, you can follow up by writing us at tentcitytacoma@gmail.com. We will check this email account about once a week, so responses may be somewhat delayed from the time you send us email.
-editor

A Few Interesting Excerpts
Below are some excerpts of items, of both current and historical interest.
There is an informational video presentation by Bud Nye
A modern fairy tale about Tacoma homelessness
And a few other things from when TCT was organizing with spirit and energy.
Check it out.


By Kathleen Merryman
Tuesday, June 18, 2013
Reprinted from The Tacoma Weekly
§
Tacomans Are Once Again Discussing a Tent City
We had this conversation a decade ago, when street activist Hank Montgomery confronted the needs of homeless people – and all the people who were trying in good faith to meet those needs. It was a caustic experience, though. On the bright side, Montgomery did end up with housing. He is doing well, and is happily married.
In the decade since, the people who dedicate their lives to trying to end homelessness have made progress. They have adopted strategies that work for families, teens, veterans, people with disabilities, addicts and those with mental illness.