Thanks to Vince Hart for writing the original draft that you're now reading, and thanks to Patricia for proofreading the leaflet based on Vince's draft.—editor
——CHANGING THE WORLD: STARTING LOCAL——
F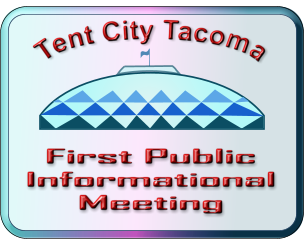 or several months, Occupy Tacoma (OT) activists and various homeless advocates have been gathering data, seeking out resources, identifying potential allies, and assembling relevant legal documents—all for the sake of launching a vital project to meet the needs of many local homeless people.
Now, a FIRST PUBLIC INFORMATION MEETING has been scheduled for Monday evening, June 10, at the First United Methodist Church (clickable link), 621 Tacoma Avenue South, to kick off the Tent City Tacoma project.
Please Come: Church leaders, civil organizations, public health and law enforcement representatives, staff from city departments, and ALL OTHER INTERESTED PERSONS are invited to attend.
Meeting Program:

Refreshments: The meeting will begin at 6:30 p.m. with refreshments.
Presentation: An OT member, formerly a homeless person himself, will share a PowerPoint presentation describing how he and other homeless advocates and activists have participated in the organization and running of successful Tent Cities.