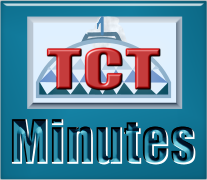 MEETING COORDINATORS:
Facilitator: Bud;
Stacker: Neal;
Note Taker: Alan O
ATTENDANCE: Neal, Vince, Alan, Bud, Sam
AGENDA APPROVAL AND MINUTES ADOPTION:
Shall we adopt the proposed agenda? Unanimous
Shall we approve the minutes of 09/02/28 as posted on the TCT website? Unanimous.
REPORTS AND DISCUSSION
Bud discussed what he called "communication badminton." He said that if we speak directly to the point and briefly, it is like playing badminton with lightweight shuttlecocks. If we are a bit too longwinded or off topic, it can be more like playing with a baseball, and if we really go off topic, it is a bit like playing with bowling balls. We discussed a little more about facilitating and stacking at a meeting can make it more productive.
Bud reported on things at Bethlehem Lutheran Church. He went to Bethlehem and retrieved the tents. They are now at Bud's place on pallets in his garage.
Neal reported on his efforts to find out how many homeless people died on the streets this year. He attempted to contact the Pierce County Health Department (PCHD) and the Medical Examiner (ME) office. They have not had a chance to get back to him. Neal will follow up on that later on. Sam asked if there was a "Women in Black" organization in Tacoma. There is a "Women in Black" organization in Seattle that commemorates the deaths of homeless people in the city. So far, there have been 47 deaths this year in Seattle, more than all of last year. Alan thought that Marilyn K might be interested in participating in such a project. The Seattle Women in Black have a web page and a Facebook page, both titled "Homeless Remembrance Project."
Bud reported on the letter he sent the Homeless Coalition asking who we could contact about their mission and vision statements. Bud noted there was no provision in either statement for getting the homeless of the streets in the short term, only long-term goals. Such a short-term solution as assisting in setting up a tent city project could be considered. So far, we have not had a response to this question about whether there is such a plan on the part of the Tacoma Homeless Coalition (THC).
Bud informs us that Cheryl is unable to attend our meeting tonight. However, Bud says that Cheryl has gotten commitments from some Rescue Mission people to help us. She thinks we need to follow up on the Senator Murray meeting that we had several weeks ago. We perhaps should have another one. We need to follow up with Ms. Phiffer.
We further discussed the possibility of a part- or full-time Tent City Organizer (TCO). Neal will act as TCO as time permits, but his time will be restricted owing to school and other obligations. Nevertheless, he will continue to do some research on the number of homeless people who die on the streets of Tacoma and Pierce County. Alan, Neal, Bud, and Sam discussed the duties a TCO performs. Bud has already been doing much of this work. Alan suggested that the duties could be divided up among several people. Vince suggests looking for another volunteer if Neal get swamped with his school obligations. Neal said he thought he could tie in some of his educational activities into TCT activities, and his schedule is flexible enough to permit him to do some of this work.
Bud said he needed the names of a few churches to approach. We discussed that, and Vince said he can get such a list to Bud.
We further discussed having regular weekly meetings where we attempt to involve the homeless. We need to make sure we have a stable place to meet and make sure this is reflected in the leaflets. Vince mentioned that some of the groups who utilize FUMC facilities make contributions for use of church facilities, and several attendees said they could make regular contributions for this. Vince will talk to others in the church administration about how FUMC can support our efforts and what kind of contributions we should try to get.
We discussed the Homeless Forum that THC is sponsoring after this meeting. The attendees at this meeting will go.
When doing some research recently, Neal discovered a so-called "Statement of Interest" that the Department of Justice (DOJ) served to the City of Boise in Idaho. This DOJ document says that if the City of Boise does not have sufficient space for housing homeless people, it is unconstitutional for them to enact anti-camping laws, and the DOJ was willing to go to court over this issue. The DOJ said that criminalizing sleeping in public places is tantamount to criminalizing homelessness when there are inadequate facilities available. This will have legal repercussions throughout the country, as well as in Tacoma if it gets tested here.
Alan will try to get forms for setting up a 501(c)3 for Tent City Tacoma. We also need a bank account at a credit union.
ACTION AGREEMENT: Neal and Bud will go to homeless coalition meeting tomorrow at 8 am.
NEXT MEETING PLANS:
COORDINATORS

Facilitator: Cheryl
Stacker: Neal
Note taker: Alan

TIME AND PLACE

Date: 09/16-2015
Time: 3:30 to 5 PM
FUMC: 621 Tacoma Ave S


Respectfully submitted: Alan OldStudent