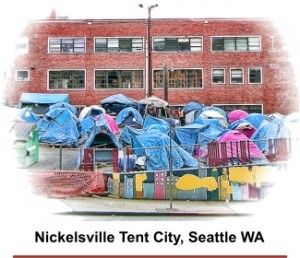 Woodstock Buzz came to our Monday GA to announce great news for Seattle's Nickelsville, a long-term homeless tent city in Seattle. The GA face-to-face attendees asked that this story appear on the Occupy Tacoma website.
The City of Seattle has ordered Nickelsville to abandon their encampment by September 1 and has plans to bulldoze it by September 2, the Labor Day weekend. That could mean the end of Nickelsville. But now it looks like they may not have to shut down.
It turns out that the Real Change newspaper has managed to acquire funds for the first of 3 needed potential encampment spaces. That space is at at 20th and Jackson. The reason Nickelsville needs to line up 3 spaces is that it can only legally stay in one spot for 6 months before having to move to the 2nd and then the 3rd, and they are required to line up 3 spaces.
Right now, Nickelsville is trying to find a church that will act as leaseholder for the land Real Change acquired for them. Nickelsville can avoid a lot of extra regulatory burdens that would otherwise apply if it falls under Seattle's religious encampment ordinance. Therefore, Nickelsville is scrambling to get a church to sponsor an encampment, and it looks like that this will happen soon.
Negotiations for a second site are well under way, and then Nickelsville will need only one more site lined up by Labor Day. If they can get all their ducks in a row by Labor Day, they can move the encampment to the new location at 20th and Jackson.

Here's what you can do to help.
Nickelsville activists are asking all their friends and supporters to show up on Labor Day weekend at their present site at 7116 West Marginal Way Southwest. If Nickelsville have everything in order, they will be able to move and will need plenty of help. Nickelsville will be grateful to you if you lend your strong arms and willing spirits to help with this move. A peaceful and orderly move is the most fervent hope of Nickelsville activists.
If it turns out that they can't move, many Nickelsville activists will want to take some kind of stand at the old encampment. In that case, Nickelsville activists will need all the emotional and political support the community can muster. If unwanted circumstances force Nickelsville activists to take some sort of stand, a strong community presence can forestall trouble and potential problems. So bring your high spirits, peaceful intentions, good will, video cameras and telephones to make sure that whatever events unfold are well documented.
For more information, you can go to the Nickelsville FaceBook page by clicking here, sending email to Scott, or by calling Scott at 206 450-9136.